Skip to Main Content
Print Items
Given the fact that we live in an online world, and many peoples experience with looking for information begins and ends with Google, we figured we should include some guides in how to use the slightly old fashioned information storage technology of books. If you already know how to find information in books, magazines, news papers, and other print resources quickly and efficiently feel free to skip this section.
Books
Useful parts of a book to know about:
Title Verso Page (aka Reverse title page) - edition, editor, publisher, ISBN number, and other useful citation information can be found here.
Table of Contents - quick guide to sections / chapters of a book
Bold, Italic, Underlined words - print styles used by authors to draw attention to key terms or sections of text.
Captions - the descriptions of an image; which may also contain text explanation of the information the image is conveying.
Side Bars / Boxes - content related to the topic of the page that is not part of the continuing text. Descriptions, examples, and related terms may appear in side bars or boxes on a page.
Glossary - small dictionary of terms related to the topic of the book often containing technical term and jargon definitions.
Appendix / Appendices - where most "see also" information goes. Large tables of data, relevant research results, research methods described. Almost anything can be in an appendix.
Index - topics, keywords, and subjects discussed in the book arranged alphabetically with page numbers listing their location in the book.
Bibliography / References - sources quoted in the book.
Author Biography - information about the author: name, location, credentials, etc...
Gale Literature Resource Center

This link opens in a new window

This database has all the author biographies you could ask for and more. - In a print book if an author biography is included it is usually at the very end of a book, possibly even on the back cover flap.
Finding an item in the Learning Commons by "Call Number" - the little number on the side of the item.
Magazines, Journals, and other (non-newspaper) periodicals - in print
Tip: Citation information for print edition magazine & journal articles can be tricky to find. Author, Title of article, and page numbers are right there with the article; however Volume and Issue numbers are often hidden in tiny boxes or tiny print on the bottom of a seemingly random page. Some magazines are nice and place this information on the cover or spine, but not many do that.
The images below shows and example of what to look for to cite a print magazine article - taken from Automotive News Journal.
Bonus Tip: Once you have a article title you want to use you can look up that title in one of our many databases and see if there is a digital version. If there is, all the citation information will be in one place...The details and abstract page. This makes it much easier to cite the source.
Newspapers
Sun Journal

by

Sun Media Group

Call Number: CMCC Periodicals

Publication Date: Daily

The Learning commons carries print copies of the Sun Journal Newspaper
Non-Print Items
The Learning Commons has much more than just books and magazines.
Space
Conference Room

Information on how to reserve and the usage rules for the conference room.
Brody Privacy Lounge Chairs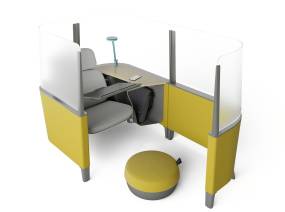 Plug in, lean back, and tune out the world so you can get work done in comfort.
Two electrical outlets, a desk lamp, lap desk, foot rest, and of course a comfortable lounge chair are all part of these privacy pods.
Yoga Balls
The Learning Commons also has 3 Yoga Ball chairs in assorted sizes.
Games, Tools, Ukulele's, and More!
The ukulele's, calculators, and charging cables can be check out just like books.
The games and puzzles stay in the Learning Commons for anyone to use while they are there for a little fun.
Just ask the Learning Commons staff and we will help you find what you are looking for.
Contact Staff
Still did not find the help you were looking for?
Fell free to contact Learning Commons staff anytime for assistance.
E-Mail the Learning Commons Staff
Phone: 207-755-5218
Central Maine Community College Library - 1250 Turner St., Auburn, Maine 04210 - Telephone: (207)755-5218 - Fax: (207)755-5494
Central Maine Community College is an equal opportunity/affirmative action institution and employer.
For more information, please call (207) 755-5100. [ Full Non-Discrimination Notice]